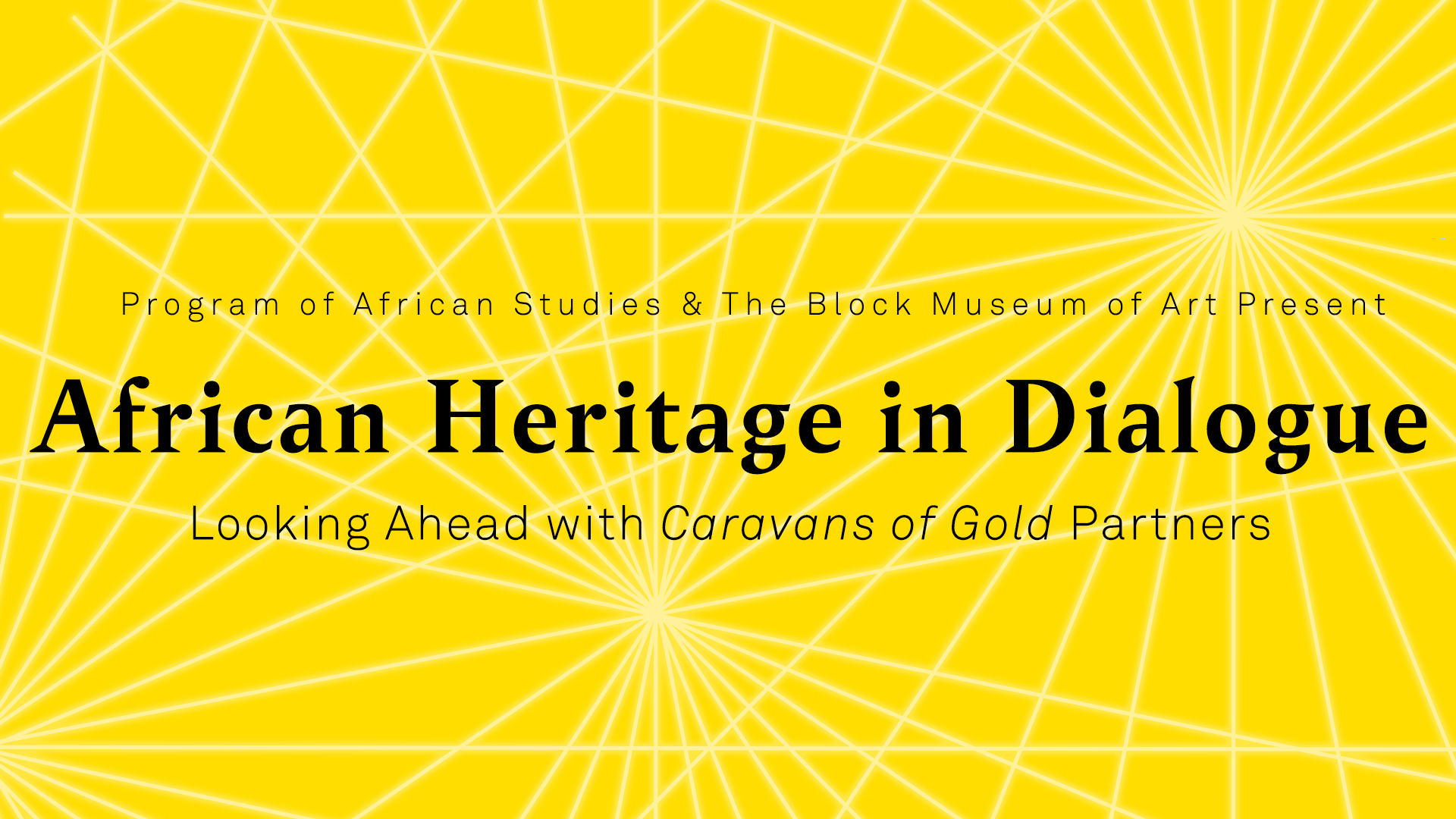 African Heritage in Dialogue Series
African Heritage in Dialogue series: Looking Ahead with Caravans of Gold Partners
The Block Museum of Art and the Program of African Studies (PAS) collaborated to create African Heritage in Dialogue, an ongoing platform to promote and celebrate exchange with cultural heritage professionals working on the African continent. In the inaugural series, African Heritage in Dialogue: Looking Ahead with Caravans of Gold Partners, Kathleen Bickford Berzock (associate director of curatorial affairs, Block Museum) and Amanda Logan (anthropology) moderate conversations with institutional leaders and archaeologists in Mali, Morocco, and Nigeria whose partnerships were fundamental to developing and presenting The Block Musuem's exhibition Caravans of Gold, Fragments in Time.  Caravans of Gold is the first major exhibition addressing the scope of Saharan trade and the shared history of West Africa, the Middle East, North Africa, and Europe from the eighth to sixteenth centuries. While introducing the first dialogue episode, PAS director Chris Abani acknowledged the exhibit as "…a very successful exhibition; perhaps one of the most interesting to come out of west and northern Africa in the last few years in terms of its breadth of connections, and the amazing ways in which all of the African institutions participated and were so generous."
Through the African Heritage in Dialogue programming, The Block and PAS seek to sustain and extend engagement with cultural heritage specialists across Africa, providing a structure for sharing ideas, challenges, questions, and priorities. This series explores essential questions: How are cultural institutions and researchers managing during the pandemic? What other factors have impacted their work over the past year? How do archaeologists and museums in each country work together in beneficial ways? And, where lies the future of archaeology, museum practice, and cultural heritage in different countries and regions?
Amanda Logan states "Our program focuses on conversations with cultural heritage professionals and archaeologists in Nigeria, Mali and Morocco. Across these different contexts we will explore how the pandemic has impacted archaeological and museums work from closing excavations and exhibitions in the short term to undermining the financial feasibility of our work in the longer term. Woven through these pandemic concerns, our larger conversations about the inequalities that fed thread through the cultural heritage sector, where issues of repatriation are now reaching their crescendo as the Black Lives matter movement demands a more equitable future we hope to explore these global issues as well as how they intersect with local and national politics with the hopes of building more resilient global partnerships."
The three-part series investigates these questions in Mali, Morocco, and Nigeria. Participants include:
Mali
Baba Coulibaly, director, Insitut des sciences humaines, Bamako
Moulaye Coulibaly, director, Direction nationale du partimoine culturel, Bamako
Mohamed Diagayété, director, Institut des hautes études et de recherches islamiques Ahmed Baba, Timbuktu
Daouda Keita, director, Musée national du Mali, Bamako
Morocco
Rochdi Bernoussi, director, Musée Bank al-Maghrib, Rabat
Abdallah Fili, professor of archaeology, Université Chouaib Doukali d 'El-Jadida, Rabat
Youssef Khiara, director of cultural patrimony, Ministère de la culture et de la communication, Rabat
Nigeria
Edith Ekunke, director of museums (retired), National Commission for Museums and Monuments, Nigeria
Babatunde Babalola, Smuts Research Fellow in African Studies, University of Cambridge
These conversations are available for viewing on the PAS YouTube channel. Caravans of Gold is currently at the Smithsonian Institute's National Museum of African Art. Learn more about the exhibition celebrating the story of Medieval Africa at CaravansofGold.org.
Back to top