Afrisem Conference
Afrisem Conference 2021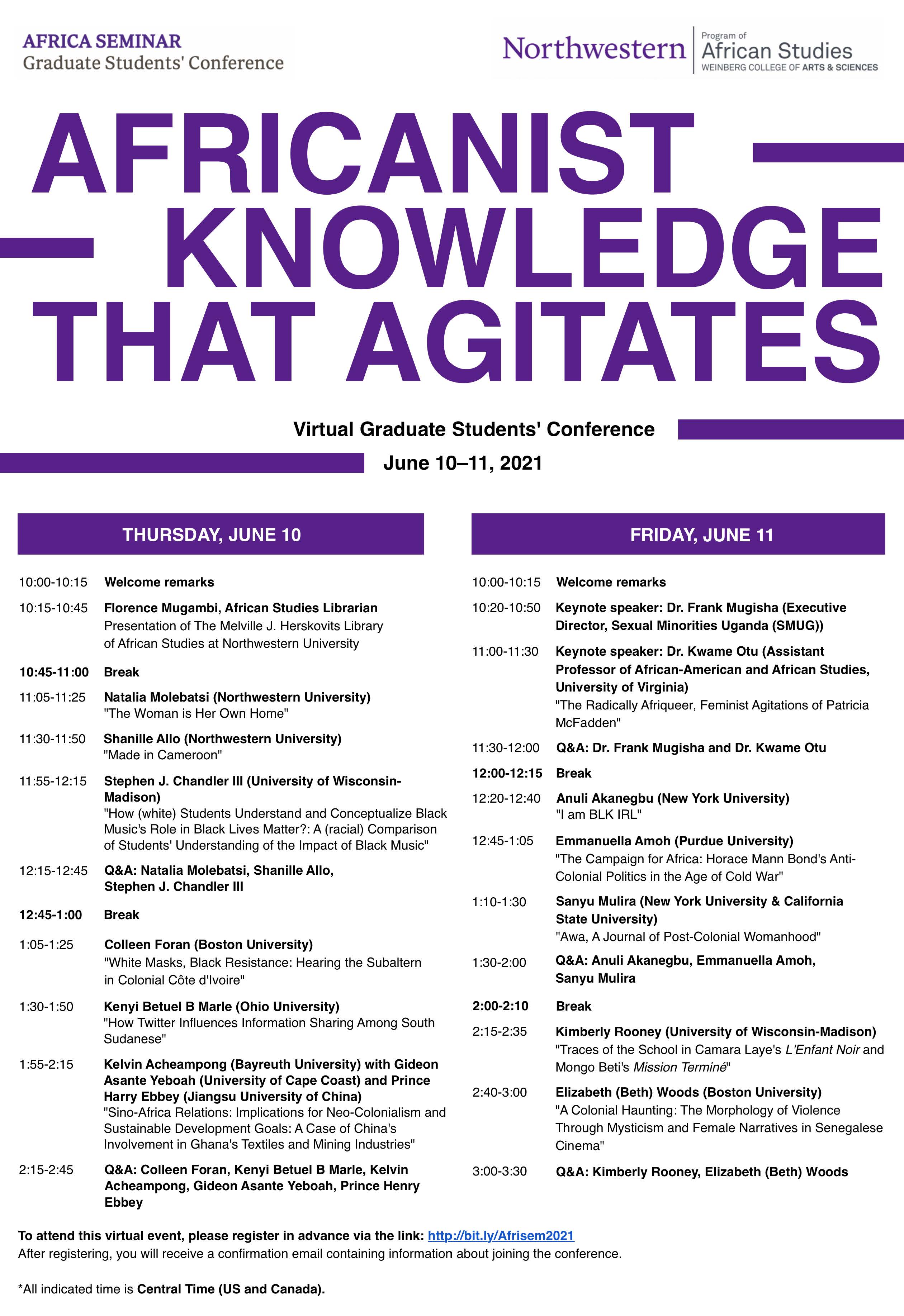 Register here and visit the official 2021 conference site for more information.
Email Afrisem@u.northwestern.edu with your questions!
Past Conferences

The Afrisem 2020 Conference can now be viewed at: https://arch.library.northwestern.edu/collections/sn009z10p                                                      
Topic: Africa's Place in a Globalizing World: Reimagining Governance, Science, Technology, Art, and Culture 

''And the green hills of Africa have come out of the past, and out of the imagination, into the present, the troubling world." James Baldwin (1962)
In his concept of "Flows," Arjun Appadurai (2000) observed that in today's globalizing world, things - "ideas and ideologies, people and goods, images and messages, technologies and techniques" - are constantly in motion and that globalization is an inherently disjunctive process that produces inequalities, injustices and problems with governance. It is in this broad understanding of globalization - the expansion and intensification of linkages and flows of people, goods, capital, ideas, and cultures across national borders - that we interrogate the position of Africa.
Webinar Keynote Speaker : Ayala Levin (Professor of Art History @Northwestern University) 
Ayala Levin's talk considers the planning of Abuja, Nigeria's capital, in the late 1970s as a site of global knowledge production about urbanism that cut across the Global North and South.
The planning of Abuja presented an unprecedented opportunity to international teams of planners to experiment with environmental city planning and to tackle social concerns following lessons learned in planning new capitals in the South. By shifting the focus to the role Nigerian academics, architects, and universities assumed in the process, this paper challenges north-south hierarchies of knowledge production. It asks how despite being embedded in paradigms of western thought, the contribution of Nigerian researchers can be considered as a form of southern expertise.
Conference Schedule
WEDNESDAY, JULY 29
1:00-1:10: Welcome Remarks
1:10-1:30: Abdulbasit Kassim (Rice University): "Decolonizing Queer Epistemology: The Dialectics of Subaltern Sexualities and Ethno-Religious Ethnicality in Northern Nigeria" 
1:35-1:55: Rachel Hodapp (University of Wisconsin-Madison): "Periods, Paternalism, and Power: Menstruation NGO Genre of Self-Transformation in East Africa" (Recorded video) 
2:00-2:20: Tony Yeboah (Yale University): "Compromised Tradition: Destruction, Negotiation, and the Imaginary Reconstruction of an African Palace" 
3:05-3:25: Anisha Bhat (Northwestern University): "Gender, Race, and Space: African Elites, Continuity, and Change in South Asian Political Landscapes, c. 1500-1800" 
THURSDAY, JULY 30
1:10-1:20: Sela Kodjo Adjei (Accra, Ghana): "Vodu, Power, Aesthetics, and Fashion" 
1:25-1:45: Debbie Frempong (Brown University): "God Loves Accra: Identity, Faith, and Belonging Among Return Migrants"
1:50-2:10: Christopher Newman (Duke University): "The Curious Case of China in South Africa" 
2:15-2:35: Araba Dennis (Purdue University): "Colonial Subjectivity, Pan-Africanism, Neoliberalism, Ghana" 
2:40-3:00: Caitlin Monroe (Northwestern University): "Searching for Nyabongo: An African Intellectual Misfit and the Limits of Global History" 
3:05-3:25: Virtual hangout
Back to top